December 20, 2020. Srinagar, Indian-occupied Kashmir.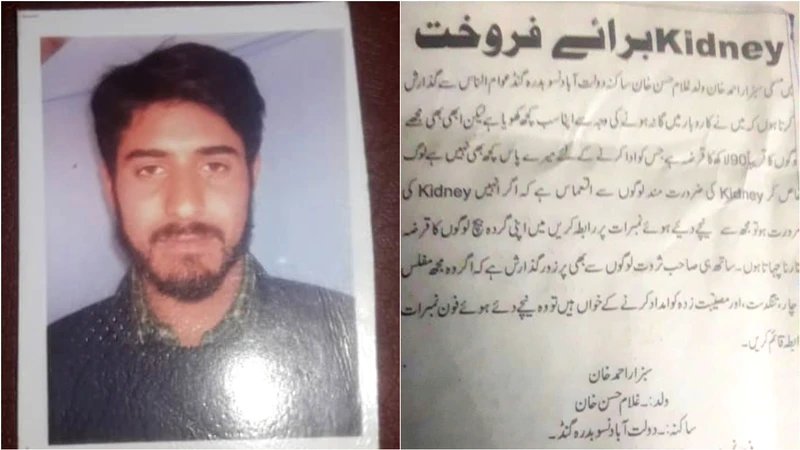 A recent advertisement in a local Kashmiri newspaper left readers shocked: A young man was selling his kidneys.
Sabzar Ahmad Khan, 28, a resident of Nussu village in the Qazigund area of southern Indian-occupied Kashmir, faces a 90 lakh-rupee debt (about $120,000 USD). Khan's business suffered from the multiple lockdowns the Kashmir valley has endured the past year. He didn't know what else to do. "I want to sell my kidney because I have lost everything," Khan said in the ad appearing in a newspaper in Kashmir's capital, Srinagar. "I request anyone in need of a kidney to contact me."
Kashmir endured a months-long clampdown after the Indian government abrogated Article 370 of its constitution, scrapping the region's autonomy. Then COVID-19 hit in March, reimposing closures of shops, offices and schools. While all businesses experienced a jolt, small enterprises like Khan's can no longer make ends meet. In an interview, Khan said he worked as a contractor and used to sell cars. Last year, he also began buying apples from farmers and then reselling the fruit. To fund his ventures, he sought credit from six banks as well as from private local lenders, who charged 30 percent interest monthly on the money he borrowed. "From last year, due to two lockdowns in Kashmir my whole business collapsed," Khan told Stand With Kashmir. Khan's wife, younger brother and sister, and aging parents rely on his income. His father works as a laborer, but at 78 years old, the older man's earnings aren't enough to buoy the family. "I had no back up to help me in the distressing situation," Khan said.
Last year, Khan purchased 15 truckloads of apples from growers in south Kashmir. It had been his "last hope," he says, to make a decent profit in resale. But with his "bad luck" during the lockdowns, outside markets didn't give good rates for Kashmir's famed apples, Khan says. He lost 200 rupees on each box of apples, adding up to hundreds of thousands of rupees. He now owes banks 60-lakh rupees (about $82,000 USD), and local lenders 30-lakh rupees (about $41,000 USD). "I am in such a situation that I found no way out but to sell my kidneys," said Khan, who's hoping he can fetch 20-lakh rupees (about $27,000 USD), to help repay his debts.
Like many Kashmiris who have lost their jobs and businesses, Khan has been out of work since the COVID-19 shutdown began in March.